CapScribe — Do it Yourself Digital Media Access
A Free Tool for Non-Profits, Public Sector Organizations, and Individuals
CapScribe Version 1 Is No Longer Available – Stay Tuned for Version 2!

In 2014 with much regret, we no longer made CapScribe available. Apple had migrated away from Quicktime 7 to a new media foundation. The original CapScribe, with its dependency on Quicktime 7 APIs, had seen several features become inoperable, including the ability to embed text tracks into videos and have them play in Quicktime X – the replacement for Quicktime 7. We expected other critical features in CapScribe to stop working potentially overnight alongside new Mac OS X updates. Sadly, we didn't have the time or resources to do the kind of major overhaul that is required... until now.
When CapScribe started, few people talked about or even implemented accessible media solutions, and even when web accessibility was addressed, digital media accessibilty seemed like an afterthought. Fast forward to almost 2020 – and there's far stronger, widespread awareness that media access is an integral part of a complete web experience, boosted by legislative efforts, new tools, web standards, and support. However, we have yet to come across a tool offering the flow and utility of CapScribe, and we are now undertaking a new, webified generation. Stay tuned....
While we are no longer distributing the original CapScribe, if you are already a CapScribe user and/or have questions in regards to it's revitalization project in 2019-2020, please email us at info@capscribe.ca.
Background
With the original CapScribe, you could produce captions for Quicktime and YouTube videos, and a few additional formats as well. CapScribe's editor gave precise control over setting up each caption. It was easy to set up, edit, and re-edit captions and time code. Hundreds of users found CapScribe a fast and enjoyable experience, plus it offered a way to create video description.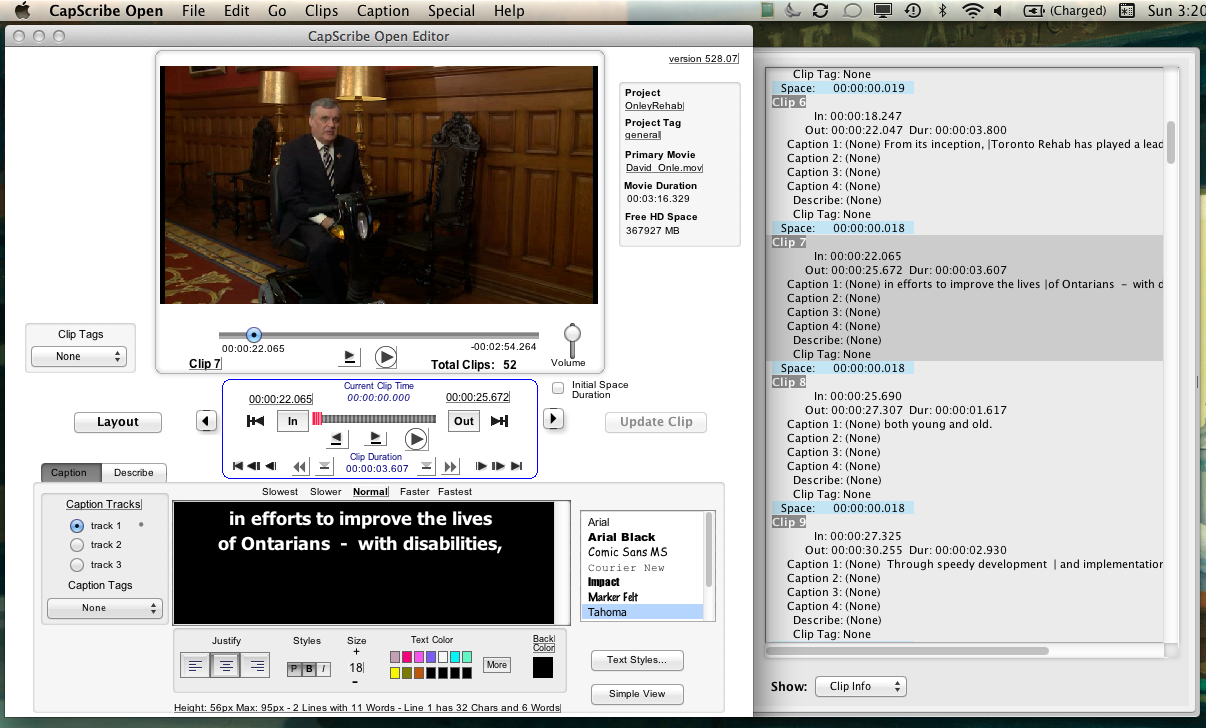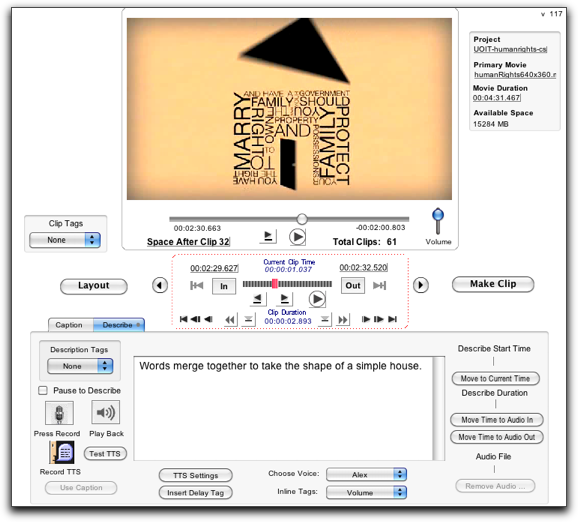 View of CapScribe's Video Description Editor
CapScribe has always been about getting as many people as possible to caption and describe their web, kiosk and desktop media. Charles Silverman had been developing CapScribe for longer than he can remember, and Inclusive Media and Design was very proud to support its ongoing development.
What You Can Do for Version 2
CapScribe was always a work-in-progress. What we learn about captioning and description from our many thousands of client projects is applied to the iterations of CapScribe. We still use a special internal edition for much of our media services work by a veteren team at Inclusive Media and Design. When you can't get everything done yourselves, use our web captioning and descriptive video services. And spread the word – let others know what we offer. This will help to fund further CapScribe development which commenced in 2019.
If you are interested in being involved in the revitalization of CapScribe, email us at info@capscribe.ca, and we'll get back to you regarding what's possible. (We are especially interested if you have had experience with any variant of the original CapScribe series.)
Be sure to include the following survey questions and responses in your email:
What do you do?
Where you work (if relevant to your request). If at a university or college, please identify the group/research unit you're involved with as well as the school.
How are you planning to use CapScribe?
Are you a previous user of CapScribe?
How did you hear about CapScribe?
We'll try and get back to you within a few days.
And stay tuned for more information about the CapScribe 2.0 team and our progress....\/p>
The CapScribe 2.0 Project is largely funded by the Broadcast Accessibility Fund.